Welcome to the KLM Crown Lounge 52 at Amsterdam Airport Schipol
Nestled within the heart of one of Europe's busiest hubs at Amsterdam Airport Schipol, the KLM Crown Lounge, for non-Schengen passengers, promises plenty of floor space, offering a respite from the busy terminal hustle and bustle. All lounges at Amsterdam Airport Schipol have a number, and this is 52.
Airport
Amsterdam Airport Schipol – official site.
Location 
The KLM Crown Lounge (labelled 52 on the map) is located in the main terminal near concourse F, at the end of Holland Boulevard, a short stroll from most international departure gates (Map courtesy of Maps Amsterdam).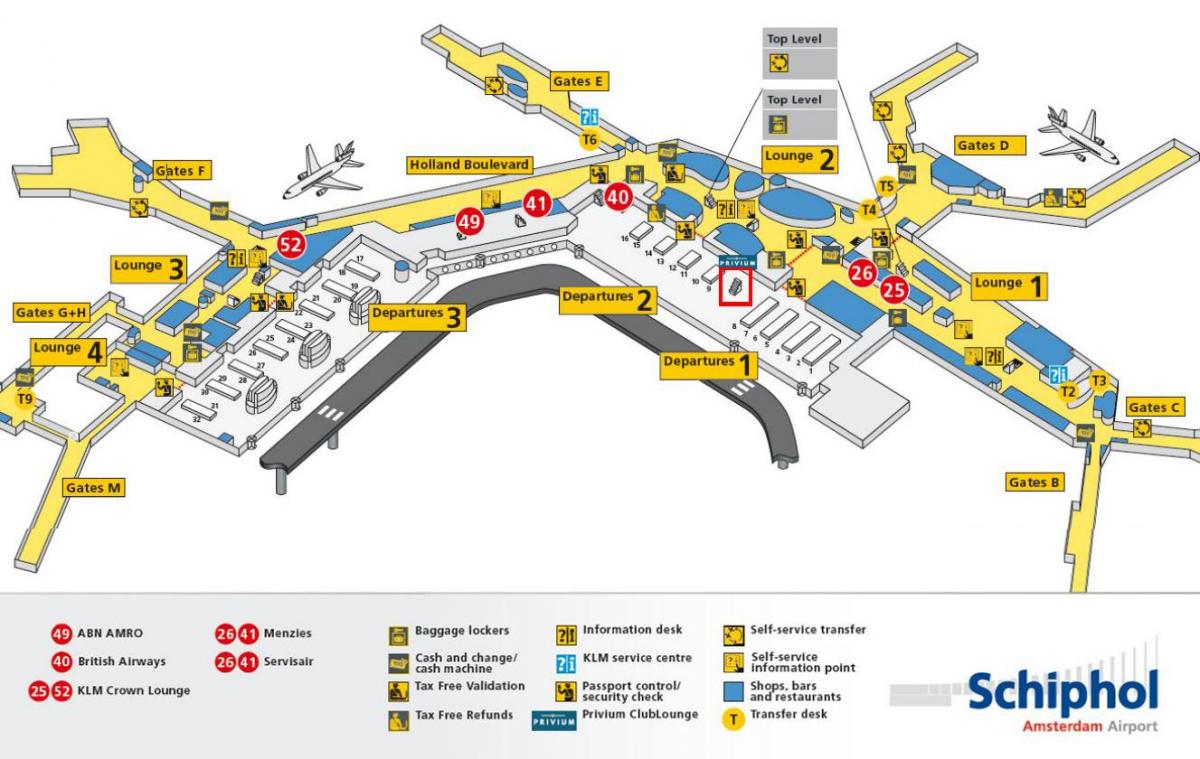 Lounge entry for the KLM Crown Lounge 52, AMS
Flying Blue Platinum and Gold members plus one guest
Business Class passengers for KLM and partner airlines
Lounge access can be purchased in advance or at the door (€60) if flying KLM or one of their partners*
SkyTeam Elite Plus members plus one guest.
* Flying Blue, Silver, and Gold members receive a 25% discount on access.


Opening hours
Open daily between 0445 hrs and 2200 hrs or when the last KLM flight departs.
Ambience and atmosphere
Opened in 2019, the KLM Crown Lounge, serving international flights, including those to the UK, is set over two floors and is, undoubtedly, busy due to the constant ebb and flow of passengers.
Finding a quiet spot with 73,000 square feet and a 1500-seat capacity is relatively easy, although the dining and lounge entrance areas have plenty of people milling around. Upstairs is a much better proposition, with fewer people, less noise, and lots of natural light courtesy of a large terrace with runway views.

Decor and Design
The escalators to the entrance are lined with five thousand Dutch Delft blue miniature houses given as a gift on board whilst travelling long-haul business class. KLM has divided the lounge into four areas, namely:
Sea (relaxation, showers, sleep, and toilets)
Polder (food and drink, workspaces, and lockers)
Dutch Mountain (entertainment)
Sky (Blue Bar, Blue Restaurant, and Terrace)
The Polder section is the main seating area of the lounge. Sofas and armchairs surround low tables, and single-tub chairs line the windows. Large floor-to-ceiling windows line the entire lounge length, allowing plenty of natural lighting.
In the Mountain section of the lounge, there is tiered, cinema-style seating. Perhaps more can be done to enhance this space.

Menu and Culinary Delights
While there is a decent food selection, the quality could be better. Catering for so many transient passengers in a lounge of this size is tricky, to say the least. Some food choices were rather bland in the downstairs sections but much improved upstairs in the Blue Bar and the Blue Restaurant, whose menu is compiled by Joris Bijdendijk of RIJKS, Rijksmuseum's Michelin-starred restaurant.

Beverage Selection
One of the lounge's standout features is the copper-styled bar, featuring the locally brewed Heineken on tap. Several wine buckets are available, along with a few bottles of spirits 9think Bombay Sapphire, Smirnoff, and VSOP), plus Amsterdam's local Damrak Gin.
Coffee and water stations around the lounge offer sparkling and still water on tap, plus various sodas.

Amenities and Facilities at the KLM Crown Lounge 52 (non-Schengen) 
The lounge provides plenty of amenities and facilities such as complimentary food and drink (excluding the Blue Restaurant and Bar), coffee stations, dedicated zones for rest and relaxation, shower suites, TVs and, interestingly, Virtual Reality (VR) booths.

Reading Material
A large magazine rack is located at the lounge entrance.
Power
Seating areas have European electrical outlets and USB ports.
Smoking
The lounge and terrace at Amsterdam Airport Schiphol are smoke-free, including chewing tobacco and electronic cigarettes. This is to comply with Dutch law's ban on smoking areas in restaurants and bars.
Mobility
It may be an issue in the crowded bar and food section area, but the rest of the lounge is accessible.
Bathroom
Ample bathrooms in the lounge and 20 individual shower cubicles in the Sea section come with decent toiletries to freshen up before your flight.
Sleep cabins
Available in the Sea section of the lounge, these luxury sleep cabins are available for three hours at €49.50.
Workspace
No dedicated workspace areas exist, but extended open-office plan communal tables suffice if the individual work alcoves are occupied. Better still, head upstairs for more privacy.
Lockers
There is plenty of locker storage in the Polder section near the bathrooms, perfect for stowing your bag whilst perusing the lounge.
Wi-Fi
Password-protected Wi-Fi with good signal strength and download speeds are provided throughout the lounge.
Virtual Reality (VR) booths
Towards the lounge rear and next to the shower area is a room with two virtual reality booths (one of which was out of use) for health and wellbeing purposes. A few immersive experiences are available, so I chose the 7-minute-long swimming with dolphins.

Blue Restaurant and Blue Bar
At the top of the escalators on the mezzanine level (or upper floor), to the left is the Blue Restaurant, and to the right is the Blue Bar. While the Blue Bar is open for lounge guests (drinks and snacks are chargeable), the restaurant is bookable by payment in advance. The high-end setting offers a terrace with a nice view of the airport.
Meal choices at the Blue Restaurant are categorised as dishes and platters. In reality, platters are main courses, whereas words are more like starters, confusing for the first-time diner. Typically open from 0700 – 2200, it is closed at present.

Service and Hospitality
Welcoming and friendly on arrival, the staff are attentive and busy with a lounge of this size. On offer is an online lounge guide, self-service kiosks and, in this case, personal lounge assistants to help with guest queries. Another feature is the inclusion of three AI-powered cleaning assistants.

Overall experience
Unquestionably, the lounge has several plus points, good facilities, terrace views and amenities; nonetheless, there is room for improvement. The food quality could be better, highlighted by the fact that the food choices upstairs in the Blue Bar are much better. A lounge should not require further payment for food, drinks and day rooms. Perhaps the Bue Restaurant, at least, is better suited to a location outside of the KLM Crown Lounge.
In summary, a decent lounge with plenty of floor space, but not an area for solitude and much more of a functional lounge and not one for solitude or peace and quiet. With a few tweaks, this lounge could be really something.
Cabin Bags Only rating: 7/10

More information about the KLM Crown Lounge 52, AMS
Instagram: airportlounges
Read about our other airport lounges